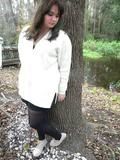 Hi, I'm Chelsea and I'm a 17 year old chub ball. I constantly try to alter my body. 
But recently, I've been on the quest of my own self image acceptance. Yeah sure, i could loose all the weight i wanted. But i would still feel as bad  as i do now. 
I have came to terms that no matter your Shape or size,  You are and will always be beautiful.